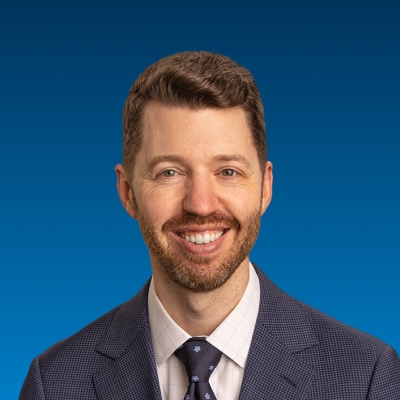 Landon J. Massoth
M.D.
Specialties
Rhinology
Endoscopic Skull Base Surgery
Otolaryngic Allergy
Dr. Massoth is a board-certified otolaryngologist who joined the Eastern Oklahoma Ear, Nose & Throat practice in 2020. He is the only fellowship-trained rhinology and endoscopic skull base surgeon in the Tulsa area. He strives to provide accessibility to the highest level of sinus and nasal care for all patients throughout northeastern Oklahoma. His clinical practice focuses on the treatment of both pediatric and adult disorders of the nose, sinuses, orbit and skull base. He has expertise in both the medical and surgical treatment of inflammatory diseases of the nose and sinuses, nasal obstruction, sinonasal tumors, cerebral spinal fluid (CSF) leaks, disorders of the tear duct system and orbit and disorders affecting the skull base.

Dr. Massoth provides compassionate and evidence-based rhinology care to Oklahomans. He sees it as an incredible privilege to be able to partner with patients to improve their symptoms and quality of life in a way that aligns with their individual values and preferences. He also provides exceptional care to his patients through a team-based approach. He collaborates with neurosurgeons, oculoplastic surgeons, allergists and rheumatologists to provide a multidisciplinary approach tailored to an individual's complex problems involving the nose, sinuses, orbit or skull base. He works closely with these highly skilled physicians to provide comprehensive and coordinated rhinology care.
What Are Some of the Conditions Dr. Massoth Treats?

Recurrent & Chronic Sinusitis
Fungal Sinus Infections (Fungal Sinusitis)
Nasal Polyps
Deviated Septum
Blocked Nasal Passage (Nose obstruction)
Chronic runny nose or post nasal drip
Nosebleeds (Epistaxis)
Sinusitis and Asthma
Aspirin Exacerbated Respiratory Disease (AERD)
Hereditary Hemorrhagic Telangiectasia (HHT)
Cystic Fibrosis related Sinus Disease
Cerebrospinal Fluid Leaks (CSF Rhinorrhea)
Tumors of the Nose and Sinuses
Skull Base Tumors
Smell disorders (Anosmia & Hyposmia)
Blocked Tear Duct Passages (Epiphora)
Thyroid Eye Disease (Grave's related eye disease)
Septal perforation
What Are Some of the Surgeries Dr. Massoth Performs?

Image-guided endoscopic sinus surgery
Revision endoscopic sinus surgery
Endoscopic CSF leak repair
Endoscopic transsphenoidal pituitary surgery
Endoscopic approach and resection of anterior skull base tumors
Endoscopic dacrocystorhinostomy
Endoscopic orbital decompression
Eustachian tube balloon dilation
Balloon sinuplasty
Septoplasty
Inferior turbinate reduction
Steroid Releasing Sinus Implant (Sinuva & Propel Implants)
Clarifix (cyroablation for chronic rhinorrhea)
Undergraduate Degree

University of Tulsa, Bachelor of Science in Biochemistry & Bachelor of Arts in French, 2010
Medical Degree

University of Oklahoma College of Medicine, 2014
Residency

University of Oklahoma Health Sciences Center, Otolaryngology-Head and Neck Surgery,
Oklahoma City, OK, 2019
Fellowship

University of Washington Medical Center, Fellowship in Neurorhinology & Advanced Rhinology, Seattle, WA, 2020
Professional Society Memberships

American Rhinologic Society
North America Skull Base Society
American Academy of Otolaryngology – Head & Neck Surgery
Alpha Omega Alpha Honor Society
Gold Humanism Honor Society
Certifications and/or Affiliations

Affiliated with Tulsa Spine & Specialty Hospital and Saint Francis Health System.
Board Certification – Otolaryngology, 2021, American Board of Otolaryngology
Publications
Community/Organization Involvement

Clinical Faculty, Oklahoma State University and University of Oklahoma Residency Programs
Volunteer Faculty, OU/TU School of Community Medicine Student Academy