Ear pain can be caused by a variety of factors, some of which require medical intervention, and others will resolve on their own. Determining the root cause of the pain can help you seek treatment when needed.
Change in Air Pressure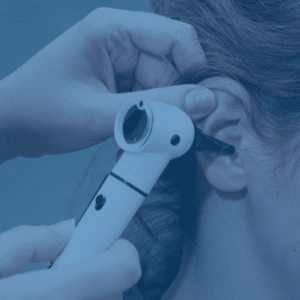 Your ear is responsible for regulating air pressure to keep the pressure equal on both sides of your eardrum. You can feel your ear doing this when you swallow and feel a little pop. But quick changes in air pressure, such as when you are in an airplane or on a fast-moving elevator can push one side off balance. This imbalance can cause your ear to hurt and may lead to trouble hearing.
Usually the pressure will equalize on its own.
Buildup of Earwax
Your ear naturally produces this yellow, waxy substance known as cerumen. It helps keeps your ear moist, fights off infections and protects debris and germs from entering the ear. The earwax cycle typically runs smoothly when left alone: earwax is created in the outer ear canal, makes its way through the ear and falls out of the ear all on its own. But if your ear produces too much earwax or something blocks the earwax from falling out of the ear, it can build up and harden. This blockage is known as impacted earwax.
Impacted earwax can lead to ear pain and temporary hearing loss. It is important to point out that you should never stick a cotton swab or other object in your ear in an attempt to get the wax out. All this will do is push the wax deeper into your ear canal and increase the likelihood of developing an infection.
You can try removing the impacted earwax at home with an over-the-counter kit or with the use of a warm water and a washcloth. If this does not work you will need to make an appointment with your ear doctor, who will remove the impacted earwax in an in-office procedure.
Development of an Ear Infection
When the tubes of your middle ear get blocked up by a cold, allergies or a sinus infection, fluid can build up and get infected. This is known as otitis media and can cause ear pain. If your infection is caused by bacteria your doctor will prescribe an antibiotic; if the infection is caused by a virus you have to wait it out. You may however use over-the-counter medication to ease the pain.
If left untreated, middle ear infections can lead to permanent hearing loss.
To learn more about why your ear hurts or to schedule an appointment with an ear doctor, contact the experts at Eastern Oklahoma ENT today.